The Lion King: Was it JUST good, or *feminist* good?
Feminist Review of The Lion King
Overall FeministDisney Rating: **, 2/4 stars  (see bottom for specifics)

So the Lion King is an interesting movie to pick apart.  I think when it comes to anthropomorphized casts, it's almost more difficult, at first, to examine it critically in terms of how it portrays humans. After all, when you think "Feminism" + "Disney," who thinks to critique the Lion King? I didn't, at first.
But truth be told: there is much to critique here.

I should say first, let's throw the whole "But this is how lions act" argument out the window.   Lions are not actually "kings" of all animals; they do not actually get along with prey when they're feeling like singing a song, or learn to eat bugs from them; when (male) lions become subadults, they have to leave their pride, and no, they can never come back. etc etc etc.
So none of this "Disney just portrayed it that way because it's that way in real life" ish.   This isn't National Geographic Channel
So anyhow.   It's very noticeable in this movie that male characters take the center stage, and female characters take a backseat to the action.    Simba, Mufasa, Scar, Rafiki, Zazu, Timon, Pumbaa (these are all characters that take up a significant amount of screen time) versus  …Nala. Sarabi was there but existed as little more than a supportive nurturing background character who took a backsteat to Simba's relationship with his father. The male story and the male perspective clearly dominate.    As a simple Bechdel test or more in depth examination will tell us, this is not a single occurrence but rather a troubling reflection of movie character diversity in general.

When it comes to Nala, her role has always frustrated me a lot.  Ignoring that it might not work with the plot already in place, it was quite disappointing that Nala did not take over partially or fully in Simba's absence.  She is always shown, especially early on in the film, to be Simba's equal, and she is perhaps even more intelligent, or at least a more naturally sound leader throughout the film, while Simba tends to be comparatively a bit more immature and in need of multiple characters propelling him into responsible/rightful action. This isn't a critique of Simba's likeability or abilities, but merely to say that in all aspects, Nala would have made at least a decent fill-in.   
From another feminist critique of this movie:
She comes up with better ideas then he does. She is the one who starts Simba thinking about his past and his future. Yet, despite the fact that she left the pride lands to find help, she also does not challenge Scar's right to rule. She does little more than Sarabi to work toward getting a better life for herself and the other lionesses, only leaving the pride lands to seek help (read: a different male lion). Only when Simba returns do the lionesses stand up to Scar. This is because a new male has been found to lead them. The lionesses are very much kept in the shadow of the male lions.
As they point out, neither Sarabi nor Nala challenge the male lion's leadership even though there is no clear reason for why they should allow him to run and ruin their entire kingdom, other than that he is male.   Not even when they are starving do they speak up and act for themselves and for their people.   Simba has to do it for them.
I think this is really one of the main and most problematic aspects of the film: it basically boils down to the fact that an entire group of strong female characters are unable to confront a single male oppressor; to do so, they need to be led by a dominant male.  It almost sucks more that Nala is such a strong, independent, intelligent, savvy female character and still ends up constrained by this plot device.   It doesn't say a lot of positive things about the role of women or about the importance of female characters in this film.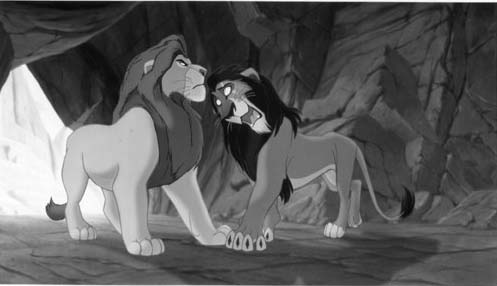 When it comes to androgyny and non-binary characters in this film, it is worth noting that they all "happen" to be the evil characters: the 3 hyenas and Scar. Scar is clearly a male lion, but as has been noted previously and in many blogs apart from mine, he is portrayed as basically the "gay evil uncle" owing to his effeminate gestures/speech/appearance that are stereotypically used as gay markers. [many people have messaged me about this, I would recommend using "has this been asked before?" to search "queer coding+ Scar.] Shenzi is presumably female but is never actually referred to one in the movie/it is something we can only assume from the general tone of the voice.  All the hyenas look very similar/are difficult to distinguish other than by voice inflection (it isn't bad to have androgynous characters: it's bad that they're always cast as villains in childrens' movies).
From a piece called Women, Race and Culture in Disney Movies:
"The characters are animals, but their voices show racist stereotypes. Even though The Lion King takes place in Africa, two white American actors are used for the voice of Simba, the hero. However, the hyenas who are bad characters in the film, speak non-standard English and are played by actors like Whoopi Goldberg and Cheech Marin. The villain, Scar, suggests homosexuality."
From another review:
"Many critics saw a racial subtext to the villainous outsiders, noting that the racialized voices of the hyenas hewed to hackneyed stereotypes of African American and Hispanic threats to nice kids from the suburbs who stray too far from home."
So don't get me wrong here: I loved the Lion King when it came out.   I was 5 and I wanted that movie on vhs sooo badly that I created this "moving train" of paper characters to show my mom in hopes that she would realize that we had to have it since I loved it enough to create a paper train. We got it as a gift when my brother was born, and I had a Zazu stuffed toy that I carried everywhere like a doll for a year or two.
/reminiscing.   So yeah, it's a great film, but that doesn't make it a great feminist film per say.
______________________________________________________________________
Promotion/Equal Voice given to women: *
Representation of Women present (are they more than typecasts of female stereotypes etc): ***
Racism/Classism: **
LGBTQ representation: *~ (1.5)
Gender Binary adherence: *~
if you're wondering how Hamlet works into this critique, go here